Car Accidents
Our Palmdale car accident lawyers respond immediately to clients' calls for help, and we represent clients throughout the Antelope Valley in order to ensure they get the compensation they deserve.
Lancaster Car Accident Lawyers
Representing Car Accident Victims in the Antelope Valley
One of the most important questions to answer in the aftermath of a serious car accident is, "Who is at fault?" The answer will determine whether or not you have grounds to file a personal injury or wrongful death claim with the goal of recovering financial compensation for your losses.
There is no better place to turn to after a car accident than Accident Attorneys. If you or a loved one has been injured in a car accident, you can benefit from the support and experienced representation our legal team provides.
---
For more information about car accidents and your rights, call (661) 261-4929 or contact us online today for your free consultation!
---
Local injured victims and families can feel confident about working with our firm because we:
Bring several decades of combined experience
Have served the Antelope Valley, including Palmdale and Lancaster, for 30+ years
Have recovered over $1 billion in compensation
Offer home and hospital visits at any time of day or night
Are available 24/7 and offer FREE case evaluations
Car accident cases can be challenging; you need this level of experience, passion, and dedication at your side. Our Lancaster car accident attorneys are here to help, and we fight aggressively to recover the compensation you rightfully deserve.
Common Causes of Car Accidents
With decades of experience and numerous successful cases under our belts, our legal team is prepared to represent victims injured in any type of car accident.
Regardless of what caused your accident, and no matter how difficult it may appear, you can be confident that our lawyers have the skills and resources to help.
We represent clients in car accidents involving and not limited to:
Driver error and negligence
Tired/fatigued drivers
Speeding
Drunk driving
Aggressive driving
Distracted driving, including texting and driving
Defective roadway conditions or auto products
We are also prepared to address more challenging issues, including cases that involve underinsured or uninsured motorist claims, catastrophic injuries, and wrongful death.
By conducting thorough investigations, meticulously preparing your case, and proving liability in your car accident case, we can fight for full and fair compensation on your behalf.
When to Get an Attorney for a Car Accident
After being injured in a car accident, it is important to contact an experienced car accident lawyer as soon as possible. An attorney can provide valuable advice and representation that could help you get the compensation you deserve for your injuries. With years of experience dealing with insurance companies and understanding complex legal concepts, a car accident lawyer can ensure that your rights are protected throughout the process. This is especially important since the strength of a car accident case often depends on the timeliness of certain actions. For example, an attorney needs to:
Collect Timely Witness Testimony: An attorney needs to collect eyewitness testimony as soon as possible after a car accident in order to establish the facts and build a legal case that can be used in court. This is important because if witnesses' memories fade or become unreliable over time, it may be difficult for an attorney to prove liability and secure compensation on behalf of clients.
Preserve Evidence: In some cases, evidence from car accidents like skid marks or vehicle damage can disappear quickly due to weathering or other factors and this makes it more difficult for an attorney to present a compelling argument in court. By preserving evidence such as photos, videos, paperwork (including police reports), repair bills and other documents immediately following the accident, an experienced attorney will have a better chance of building a strong case for their clients.
Meet Deadlines: A statute of limitations sets forth the maximum amount of time within which legal action must be taken. Otherwise, you may lose your right to file suit against those responsible for causing harm. In California, the statute of limitations for a car accident is two years. However, if the accident was the fault of a government employee, you may only have six months to file the proper paperwork. Because statutes vary depending on who is involved in an accident, it's imperative that attorneys meet these deadlines so they can pursue compensation on behalf of their clients. This means they need to be involved as soon as possible to ensure that these deadlines are not missed.
A skilled attorney will have knowledge of local laws and regulations regarding car accidents, which may be different from state to state or even county-to-county. Furthermore, they understand how to negotiate with insurance companies on your behalf so that you receive the best settlement possible for your claim. By having an experienced advocate on your side during this difficult time, you can be sure that all of your needs will be met throughout the legal process.
Who Is Responsible for Causing Your Car Crash?
One of the most important questions to answer in the aftermath of a serious car accident is, "Who is at fault?" The reason that this is such a vital question is that the answer will determine whether or not you have grounds to file a personal injury or wrongful death claim with the goal of recovering financial compensation for your losses.
As soon as possible after your accident, come to Accident Attorneys for a free initial consultation with one of our Antelope Valley car accident lawyers. We can review the circumstances of your accident to find out whether you have cause for legal action against the other driver, as well as estimate how much your case may be worth in financial compensation.
How We Establish Liability for an Accident
The way that we determine who is at fault for a car accident is by looking at the actions that led up to the moment of the collision. Some accidents are unavoidable or can only be blamed on factors such as bad weather.
The vast majority of traffic crashes, however, can be directly attributed to human factors, meaning that one of the drivers is responsible. If the other driver was engaging in any type of careless, reckless or otherwise negligent behavior, you may have grounds to file an injury claim.
Car Accident FAQ
If you were injured in a car accident, you likely have a lot of questions. At Accident Attorneys, we understand that you may be feeling overwhelmed or unsure of what to do next. Here, our attorneys have answered some of the most common car accident questions to help you find the answers you need.
What should I do after a car accident?
Immediately after you have been injured in a car accident, you should collect any and all evidence that you may have in relation to the accident. This includes taking photographs of your injuries and of the damage to your vehicle, as well as making notes about what the traffic conditions were at the time of the collision.
You also should write down your recollection of the incident while your memory is still fresh. Furthermore, after seeking medical treatment, you should start keeping notes about how your injuries are affecting your daily routine and your overall well-being, including details about the pain and other symptoms that you feel.
Should I apologize to the other driver after an accident?
As a good person, you may feel compelled to take responsibility for your share of the accident and to apologize to the other driver. Maybe it's true that you contributed in some way to causing the accident and there may have been something you could have done to avoid the collision. Do not, however, make the mistake of telling the other driver these things.
Your personal injury claim is a legal dispute between you and the other party, and the statements you make to the other driver may end up being used as evidence against you. Discuss the case with no one but your Antelope Valley personal injury lawyer and let your lawyer represent you with the other driver and all other parties involved.
Am I entitled to compensation After an Accident?
The vast majority of all car accidents are directly attributable to human factors. In other words, the careless, reckless or otherwise negligent actions of one of the drivers can almost always be shown to be the cause of a car crash.
If the other driver is responsible for your collision, you should have grounds to file a personal injury or wrongful death claim in order to recover compensation. Whether you were injured in an accident caused by a truck driver, driver distraction, or have lost a loved one in a drunk driving accident, you should not be forced to pay the price.
How Much Can I Get From A Car Accident Settlement?
The amount of compensation that you may receive depends on the severity of the injury. An experienced car accident attorney can guide you through the process of collecting the documentation and fighting for the compensation you need to recover.
You may be entitled to compensation for:
Medical expenses related to your injury
Emotional distress
Costs associated with a permanent disability
Lost income and wages
Property damage
Death of a loved one
Why You Should Hire a Lawyer after a Car Accident
Our lawyers are familiar with all types of car, truck, and motorcycle accidents. Whether it's a head-on collision, rear-end collision, or side impact our experienced legal team can fight for you while you focus on recovering.
If you were injured in an accident, you may be entitled to compensation. Don't let insurance companies dictate how much you receive. Work with a trusted attorney and get the full compensation amount you are entitled to.
---
Contact us now at (661) 261-4929 at Accident Attorneys for a free case evaluation to discuss the situation and learn more about how we can help!
---
What To Do After A Car Accident
Car accidents can be incredibly shocking and frightening events, especially if you are unprepared. As emotions run high in the heat of the moment, it can be difficult to focus on the task at hand and know what to do after your collision. However, there are certain things you can do following a crash to protect yourself and your interests.
If you are involved in a car accident:
Stop: Never drive away from the scene of an accident, even if it seems minor. Fleeing a collision is a crime known as a "hit and run" and can carry serious criminal consequences.
Check all involved parties: Your first priority should be to make sure everyone involved is alright. If anyone appears hurt, do not attempt to move them and call for an ambulance.
Call the police: If there has been a considerable amount of property damage, serious physical injuries, or death, you are required by law to call the police. The responding officer will contain the scene and create an accident report. Be sure to obtain the names and badge numbers of any police who assist you.
Exchange information: Be sure to record the names, addresses, phone numbers, drivers' license numbers, license plate numbers, and insurance information from all involved drivers. Be cordial and friendly, but do not discuss the accident. Even seemingly innocent statements such as "I did not see you," or "I'm sorry" can be misconstrued as an admission of fault, possibly holding you liable for the resulting damages.
Speak to witnesses: If there were witnesses to your crash, ask them what they saw. Record their contact information and ask any locals if they have seen similar collisions in the same location.
Take photographs: Gather as much evidence of the damage as you can after your collision. Take detailed photos of your injuries, skid marks, damage to all involved vehicles, and property damage. These photos will help your insurance adjuster determine the value of your claim.
Tell your insurance company: It is imperative you promptly inform your insurance company of your collision and cooperate with them. Be honest about the extent of your injuries and the facts of your crash. If your insurance provider should have reason to believe that you have lied to them, you could face serious consequences and possibly lose coverage for your collision.
See a doctor: Always seek a thorough medical evaluation after a collision. Even if you feel fine, there is still a possibility that your injuries have delayed symptoms and will worsen with time. Keep a detailed record of all treatments and medications you receive, as well as a journal of how your injuries have affected your daily life. Include any days your injuries have forced you to miss work, the extent of your pain, and any daily routines that your injuries prevent you from being able to perform.
Obtain an independent repair estimate: If you are unsatisfied by your insurance company's damage valuation, obtain two independent repair estimates or replacement quotes and assertively inform your adjuster of your concerns. If an agreement cannot be reached, consider mediation or consult with an attorney.
Protect your rights: The last thing you need after a collision is to be stonewalled by an uncooperative insurance company. A skilled car accident attorney can handle the legal heavy lifting on your behalf and fight to maximize your recovery.
Can You Sue a Drunk Driver for an Accident?
When you buckle up your seatbelt and head out on the road as a driver or passenger, you have a right to expect that the other drivers around you are all just as concerned as you are about avoiding accidents. You reasonably assume that the other drivers are taking precautions to keep themselves and others safe. Depending on when you are on the road, however, you could be gravely mistaken.
According to the California Office of Traffic Safety's 2019 Highway Safety Plan, California saw a 16.2 percent increase from the previous year in alcohol-related motor vehicle collision fatalities in 2016. That same year, 29.2 percent of all fatal motor vehicle crashes in California involved a motorist with a blood alcohol concentration (BAC) of 0.08 percent or higher, which was higher than the national average.
With so many drunk drivers on the road, your risk of being involved in an alcohol-related crash is frighteningly high. Even when you take all necessary safety measures to keep yourself safe, you may not be able to avoid a collision.
Tips for Safe Driving During an Antelope Valley Dust Storm
While it may be impossible to avoid getting caught in a dust storm, there are a number of ways in which you can implement safe driving techniques while on the road. These storms often come without any warning and, depending on the speeds of the winds, they can be extremely violent and cause minimal visibility to the areas surrounding your vehicle. As a motorist, it is your responsibility to do whatever you can to drive safely.
Here are a few tips to consider during a dust storm:
If you can safely do so, pull over to the side of the road and wait for the storm to pass through; turn off your lights
DO NOT stop your car in the middle of the road for any reason, as this may cause a devastating collision
If you continue driving, turn your headlights on and proceed at low speeds, focusing on road lanes
If there are tumbleweeds on the road, do not swerve your car; they will not cause substantial property damage and your safety is more important
As you drive, frequently sound your horn to alert other vehicles of your cars presence on the road
While dust storms are usually short, they may cause road delays; keep food and water storage in your vehicle
Once the dust storm is over, use extreme caution when returning to the roadways as the dust will make the road slippery and the lane dividers difficult to see
Can You Sue an Uninsured Motorist?
If you are involved in an accident with an uninsured or underinsured motorist, you may still be able to recover compensation for your damages—but it will likely be very difficult to do so.
It's important to work with an attorney who has experience handling these types of complex claims.
Uninsured Drivers: If you are unfortunate enough to be involved in an accident with an uninsured driver, special laws and insurance laws apply. The uninsured driver will, in most cases, be liable for the injuries and damages caused. Without an insurance carrier to pay the bills and damages, however, you will be left with no easy remedy against the at-fault driver. He or she will not be able to call upon an auto insurance carrier to defend against any resulting lawsuits or to pay any settlement or award of damages resulting from litigation.
Uninsured Motorist Coverage: If you have uninsured motorist coverage on your own insurance policy, your carrier may "stand in the shoes" of the at-fault driver and provide coverage for your injuries and damages, but beware! Your carrier will act just as if they were insuring the other driver. You will definitely need an Antelope Valley car accident lawyer on your side to present your claim in the highly specialized, binding, uninsured motorist arbitration hearings that are held to settle claims of this nature.
Most Common Causes of Car Accidents
According to research published by the International Organisation for Road Accident Prevention, 90 percent of all motor vehicle collisions are caused by human error.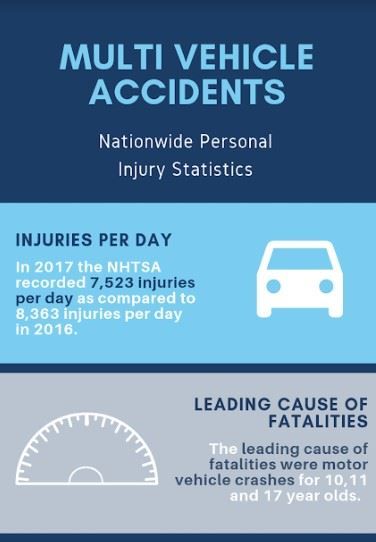 In other words, the vast majority of all car accidents or truck accidents can be directly attributed to some type of careless, reckless or otherwise negligent action on the part of one of the drivers. When this is the case, the accident victims or surviving family members often have a right to demand financial compensation by filing a personal injury or wrongful death claim against the at-fault driver.
Car Accident Statistics
The National Highway Traffic Safety Administration reports that car accidents were the leading cause of death in 2017 for multiple ages. Distracted driving is among the most widespread types of distraction that causes auto accidents, though others common causes include adjusting the car stereo, grooming in the mirror, eating, or talking with passengers.
Other common causes of car accidents may include:
Driver incompetence
Driver inexperience
Failure to yield the right of way
It is also possible in some cases to file an auto product liability lawsuit against an automobile manufacturer, such as when defective tires blowout and cause a rollover or defective air bags cause injury in an accident.
Have You Been injured in a car accident? Let the Accident Attorneys Help