Motorcycle Accidents
We are not an attorney referral service, nor are we part of a nationwide motorcycle lawyer franchise. On the contrary, we are real lawyers located in the Antelope Valley, and we are ready to help you pursue compensation for your motorcycle accident.
Motorcycle Accident Lawyer in Lancaster, CA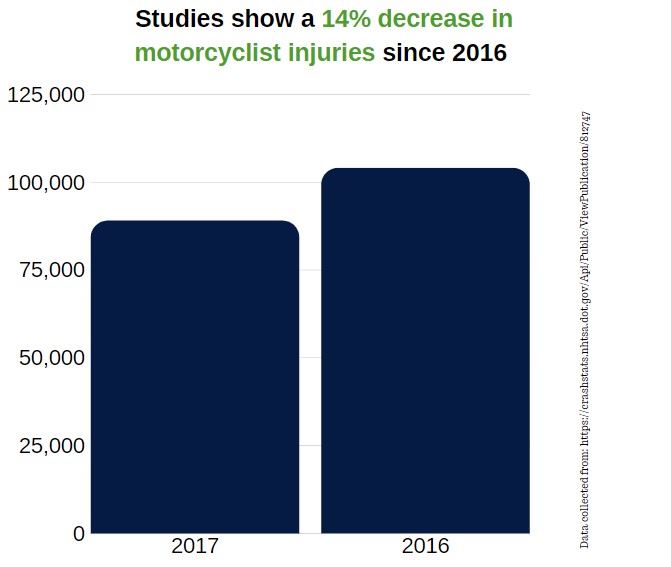 Motorcycle accidents involve different issues than car crashes and truck collisions. They require unique knowledge and experience when pursuing financial compensation for the accident victim's losses. In 2017, the National Highway Traffic Safety Administration (NHTSA) recorded a total of 5,172 fatalities due to motorcycle crashes. This is a 3% decrease from the previous year.
Antelope Valley injury attorney Steve Rishoff began working as a motorcycle mechanic at his local Honda dealer when he was 18 years old, and he has been turning wrenches ever since. His love for the bike has carried into his career as a lawyer, and he has more than 30 years of experience handling motorcycle accidents.
---
When you are injured as a result of another driver's negligence, you need a lawyer who has the skill, training and knowledge to represent you and protect your interests. Contact the Accident Attorneys for a free consultation!
---
Common Motorcycle Accidents
We know that bikers usually face far more serious injuries than drivers of passenger vehicles during a collision.
Common motorcycle accident injuries include:
Road rash
Whiplash
Brain injuries
Broken bones
Spinal injuries
Back injuries
Neck injuries
It can be months or even years before you fully recover, and there is a possibility that you will never regain your full pre-accident health. You need an experienced lawyer by your side to help you navigate issues involving medical bills, the costs of repairing damage to your bike, your lost income and the expenses associated with your physical rehabilitation.
You need an attorney who knows how to prepare your claim for success and who is willing to fight to safeguard your right to compensation.
How to Avoid Motorcycle Accidents in Lancaster
Motorcyclists make up 3% of all registered vehicles, but studies show that 14% of all traffic fatalities were the result of a motorcycle accident. For motor vehicle drivers and motorcyclists alike, it is important to do everything you can in order to maintain safety and reduce car accidents in Lancaster.
4 Tips on How to Avoid Motorcycle Accidents:
Avoid bad weather- California does not have a reputation for consistently bad weather, but during the winter months it is very likely that roads will be wet and much more unsafe for motorcyclists.
Pay close attention at intersections- Intersections are one of the most dangerous parts of driving. Unfortunately, many drivers do not pay attention to the traffic signals and they create serious or fatal crashes as a result. If you are operating a motorcycle, pay extra attention when you are driving through an intersection to prevent any crashes or injuries.
Never drink and drive- Alcohol impaired driving is one of the leading causes of crashes and deaths due to traffic collisions in California. Never operate a motorcycle after you have had alcohol, and be sure to call someone that can assist you in getting to your destination safely.
Always wear a helmet- A large factor that directly influences motorcyclist fatalities is the use of helmets. Never operate your motorcycle without wearing a helmet. If you are driving a car and notice a motorcyclist without a helmet on, stay as far away from them as you can to avoid a fatal collision.
---
Contact us our motorcycle accident attorneys for a free case evaluation to find out what your case may be worth.
---
Do You Have Questions?
We Have ANSWERS
If someone else's negligence or carelessness caused your accident, you have the right to pursue financial compensation for your damages. Speak with a lawyer from Accident Attorneys to learn more about your legal rights and options with our firm. You can also fill out an online evaluation form for additional information about your unique case.

Every case is different. A variety of circumstances determine the value of your claim. Property damage, medical expenses, hospitalization fees, pain, and suffering, missed wages, and many other factors can affect the outcome of your case.

You can even collect damages for future unemployment / missed wages and ongoing medical costs. Speak with a member of the legal team at Accident Attorneys to learn more about the potential value of your case.

If you file a claim against an individual, his / her insurance company is probably aware of the judgment. If the insurance is unaware of the settlement, you can notify the insurer. At this point, the insurance provider should issue a check for the settlement.

If the responsible party does not have insurance, you may need to enter the settlement with the court. The court has the authority to enforce the judgment if the responsible party refuses to pay.

There is no minimum amount of money allowed for a personal injury settlement; every case is determined by the unique facts surrounding the claim. Additionally, most jurisdictions do not have a cap on the amount of my money that you can receive through a personal injury settlement.

In California, the amount of money that you can receive for noneconomic damages (pain, suffering, etc.) for a medical malpractice case is limited to $250,000; however, other injury settlements are not subject to this restriction.

Generally speaking, parents are not allowed to access any money given to their child for a personal injury settlement. This is because some parents may take the money for their own benefit instead of the child.

Your child's money will probably be placed in a blocked bank account that only he / she can access at the age of 18. The court may allow you to access the money sooner, but only if it is needed for the child's well-being or health.
Have You Been injured in a car accident? Let the Accident Attorneys Help