Causes of Car Accidents
Our Palmdale car accident lawyers respond immediately to clients' calls for help, and we represent clients throughout the Antelope Valley in order to ensure they get the compensation they deserve.
Causes of Car Accidents in the Antelope Valley
Most Common Causes of Car Accidents
According to research published by the International Organisation for Road Accident Prevention, 90 percent of all motor vehicle collisions are caused by human error.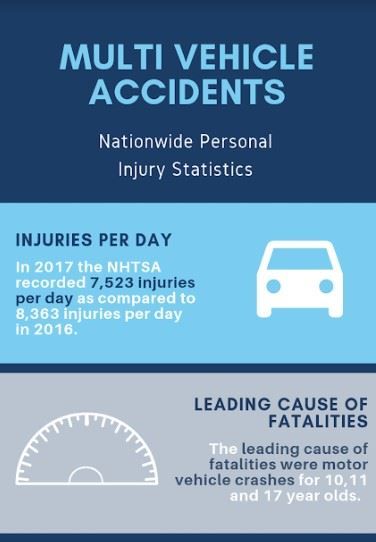 In other words, the vast majority of all car accidents or truck accidents can be directly attributed to some type of careless, reckless or otherwise negligent action on the part of one of the drivers. When this is the case, the accident victims or surviving family members often have a right to demand financial compensation by filing a personal injury or wrongful death claim against the at-fault driver.
Car Accident Statistics
The National Highway Traffic Safety Administration reports that car accidents were the leading cause of death in 2017 for multiple ages. Distracted driving is among the most widespread types of distraction that causes auto accidents, though others common causes include adjusting the car stereo, grooming in the mirror, eating, or talking with passengers.
Other common causes of car accidents may include:
Driver incompetence
Driver inexperience
Failure to yield the right of way
It is also possible in some cases to file an auto product liability lawsuit against an automobile manufacturer, such as when defective tires blowout and cause a rollover or defective air bags cause injury in an accident.
Let a Lancaster Car Accident Attorney Fight for You
Contact us at Accident Attorneys if you have been hurt in a collision and you want to find out whether you have grounds for legal action. Our Antelope Valley car accident lawyers have a long track record of winning insurance settlements and jury verdicts for clients, and we are ready to take immediate action on your case.
---
Take your first step toward recovering compensation by requesting a free case evaluation.
---
Do You Have Questions?
We Have ANSWERS
If someone else's negligence or carelessness caused your accident, you have the right to pursue financial compensation for your damages. Speak with a lawyer from Accident Attorneys to learn more about your legal rights and options with our firm. You can also fill out an online evaluation form for additional information about your unique case.

Every case is different. A variety of circumstances determine the value of your claim. Property damage, medical expenses, hospitalization fees, pain, and suffering, missed wages, and many other factors can affect the outcome of your case.

You can even collect damages for future unemployment / missed wages and ongoing medical costs. Speak with a member of the legal team at Accident Attorneys to learn more about the potential value of your case.

If you file a claim against an individual, his / her insurance company is probably aware of the judgment. If the insurance is unaware of the settlement, you can notify the insurer. At this point, the insurance provider should issue a check for the settlement.

If the responsible party does not have insurance, you may need to enter the settlement with the court. The court has the authority to enforce the judgment if the responsible party refuses to pay.

There is no minimum amount of money allowed for a personal injury settlement; every case is determined by the unique facts surrounding the claim. Additionally, most jurisdictions do not have a cap on the amount of my money that you can receive through a personal injury settlement.

In California, the amount of money that you can receive for noneconomic damages (pain, suffering, etc.) for a medical malpractice case is limited to $250,000; however, other injury settlements are not subject to this restriction.

Generally speaking, parents are not allowed to access any money given to their child for a personal injury settlement. This is because some parents may take the money for their own benefit instead of the child.

Your child's money will probably be placed in a blocked bank account that only he / she can access at the age of 18. The court may allow you to access the money sooner, but only if it is needed for the child's well-being or health.
Have You Been injured in a car accident? Let the Accident Attorneys Help