Causes of Car Accidents in the Antelope Valley
Most Common Causes of Car Accidents
According to research published by the International Organization for Road Accident Prevention, 90 percent of all motor vehicle collisions are caused by human error.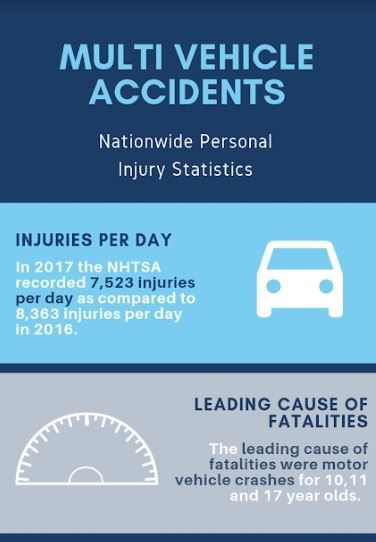 In other words, the vast majority of all car accidents or truck accidents can be directly attributed to some type of careless, reckless or otherwise negligent action on the part of one of the drivers.
When this is the case, the accident victims or surviving family members often have a right to demand financial compensation by filing a personal injury or wrongful death claim against the at-fault driver.
California Car Accident Statistics
The National Highway Traffic Safety Administration reports that car accidents were the leading cause of death in 2017 for multiple ages.
Distracted driving is among the most widespread types of distraction that causes auto accidents, though others common causes include adjusting the car stereo, grooming in the mirror, eating, or talking with passengers.
Other common causes of car accidents may include:
Driver incompetence
Driver inexperience
Failure to yield the right of way
It is also possible in some cases to file an auto product liability lawsuit against an automobile manufacturer, such as when defective tires blowout and cause a rollover or defective air bags cause injury in an accident.
Let a Lancaster Car Accident Attorney Fight for You
Contact us at Accident Attorneys if you have been hurt in a collision and you want to find out whether you have grounds for legal action. Our Antelope Valley car accident lawyers have a long track record of winning insurance settlements and jury verdicts for clients, and we are ready to take immediate action on your case.
Take your first step toward recovering compensation by requesting a free case evaluation.
Why Choose The Accident Attorneys?
Car accidents are scary. If you or a loved one has been involved in a car accident do not hesitate to contact one of our dedicated and experienced attorneys today to fight for the compensation that you deserve!
Proven Results

Over $1 billion won in insurance settlements & jury verdicts on behalf of our clients.

Experienced Counsel

Over 75+ years of experience protecting the rights of the injured.

Respected & Valued By Our Peers

Members of Million Dollar Advocates Forum®, included in the exclusive California Super Lawyers® List from 2009-2020 and National Trial Lawyers: Top 100 Lawyers of California.

Customized Legal Strategies

When you come to our firm, we promise that you will be working directly with your Antelope Valley personal injury lawyer.

Más de 75 años de experiencia combinada